MALE ATHLETE OF THE YEAR: ME?
Tuesday, December 26, 2006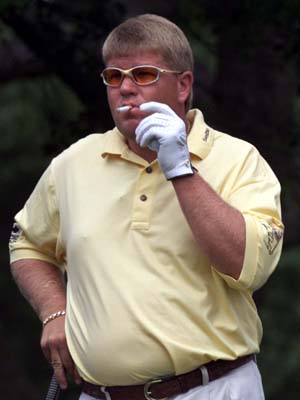 John Daly isn't exactly athletic.
As far as pointless awards go, the Male Athlete of the Year award, handed out by the Associated Press, is arguably king. Originating in 1931, the award has singled out one male athlete among all others in competitive sporting events. Lance Armstrong owned the award four years in a row from 2002-2005 before Tiger Woods took home the crown for the fourth time in his career, finishing the year 2006 on a high note.
Hey, at least they didn't put a mirror on the cover in naming everybody ("Yes, you!") as the recipients of the award, as TIME Magazine is guilty of doing with their annual Person of the Year award. They could have, as the average American is as comparable an athlete as Tiger Woods. There is no doubt that Tiger Woods is one of the greatest golfers ever, but are golfers athletes? This writer doesn't think so.
Like chess, golf is a cerebral game. Physical stature is hardly a factor, as is evidenced by Woods' competitor and colleague John Daly. The 220-pound man stands 5'11" and is no stranger to the toxic nature of cigarettes and alcohol, yet that hasn't stopped him from having an extremely successful career, winning five PGA Tour events, two of which were major championships (PGA Championship in 1991, and the British Open in 1995).
An "Athlete of the Year" award should never, ever go to a golfer. They're not athletes. Well, according to the dictionary's definition of "athlete," golfers do qualify, but there must be a standard. The physical exertion necessary to play golf is minimal at best. The sport is more mechanical than anything. You can hit the ball as hard as you want but if you don't have the mental part of the game down, you may as well be at the batting cages.
LaDanian Tomlinson is easily a more deserving recipient, although his season is not yet over. He shattered Shaun Alexander's record of 28 touchdowns, set last year, on December 10 (Week 14), and currently sits on 31 with a week to go. After all, Tomlinson did finish just 30 votes behind Woods for this year's award (260 to 230), and he's exponentially a much better athlete.
In any case, the award is pointless. It doesn't add anything of value to the recipient's resume aside from aesthetics. Just as baseball's Gold Glove award needs to be buried, so too must these frivolous nominations.
Tiger Woods, athlete of the year? May as well have named me.
---